Programs & Grants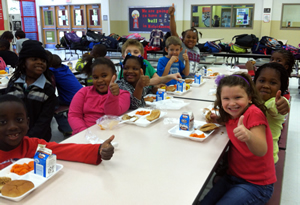 The At-Risk Afterschool Meal Program (ARAMP), also referred to as the Supper Program, allows schools to provide free meals in low-income areas during after school programs that offer educational and/or enrichment activities.
This United States Department of Agriculture (USDA) nutrition assistance program is run at the state level by the South Carolina Department of Social Services' Child and Adult Care Food Program (CACFP) division. CCSD's Nutrition Services Department works with qualifying schools and their after school programs to coordinate the ARAMP.
After school program coordinators (or school administrators in middle/high schools) are responsible for maintaining daily attendance records and meal count records provided by Nutrition Services and distribution of program enrollment information.
CCSD's Nutrition Services Department is responsible for the preparation and serving of the meal along with program oversight, which includes: training, monitoring and application renewals.
The supper program launched at seven schools in October 2012
48 schools are currently eligible to participate
Over 370,000 suppers are served annually
Qualifying schools may be brought on board throughout the school year
Learn More
Disclaimer
In accordance with federal law and U.S. Department of Agriculture policy, this institution is prohibited from discriminating on the basis of race, color, national origin, sex, age or disability.

To file a complaint of discrimination, write USDA, Director, Office of Civil Rights, Room 326-W, Whitten Building, 1400 Independence Ave. S.W., Washington D.C. 20250-9410, or call (202)720-5964 (voice and TDD). USDA is an equal opportunity provider and employer.
Contact Us
For more information about CCSD's Supper Program, the At-Risk Afterschool Meal Program, please contact:
Angela McLaughlin
Supper Coordinator
Nutrition Services
843-566-7263
843-529-3920 fax