Welcome to Nutrition Services!
Student Name
School Name
Person to make the check out to
Address to mail the check to
A phone number
Please note any balance for students returning next year will carryover.
_____________________________________________________________

Grab & Go Meal Distribution Sites:
As a result of Governor Henry McMaster's order related to coronavirus, the Charleston County School District will launch grab and go style meal distribution sites.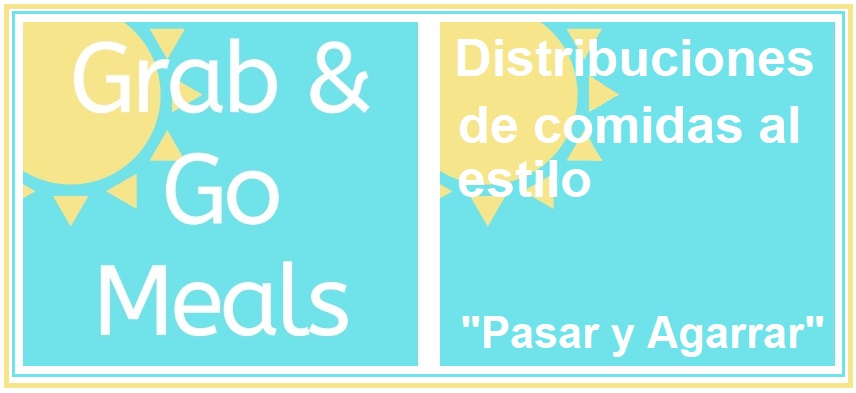 Allergy & Nutritional Information English
Allergy & Nutritional Information Spanish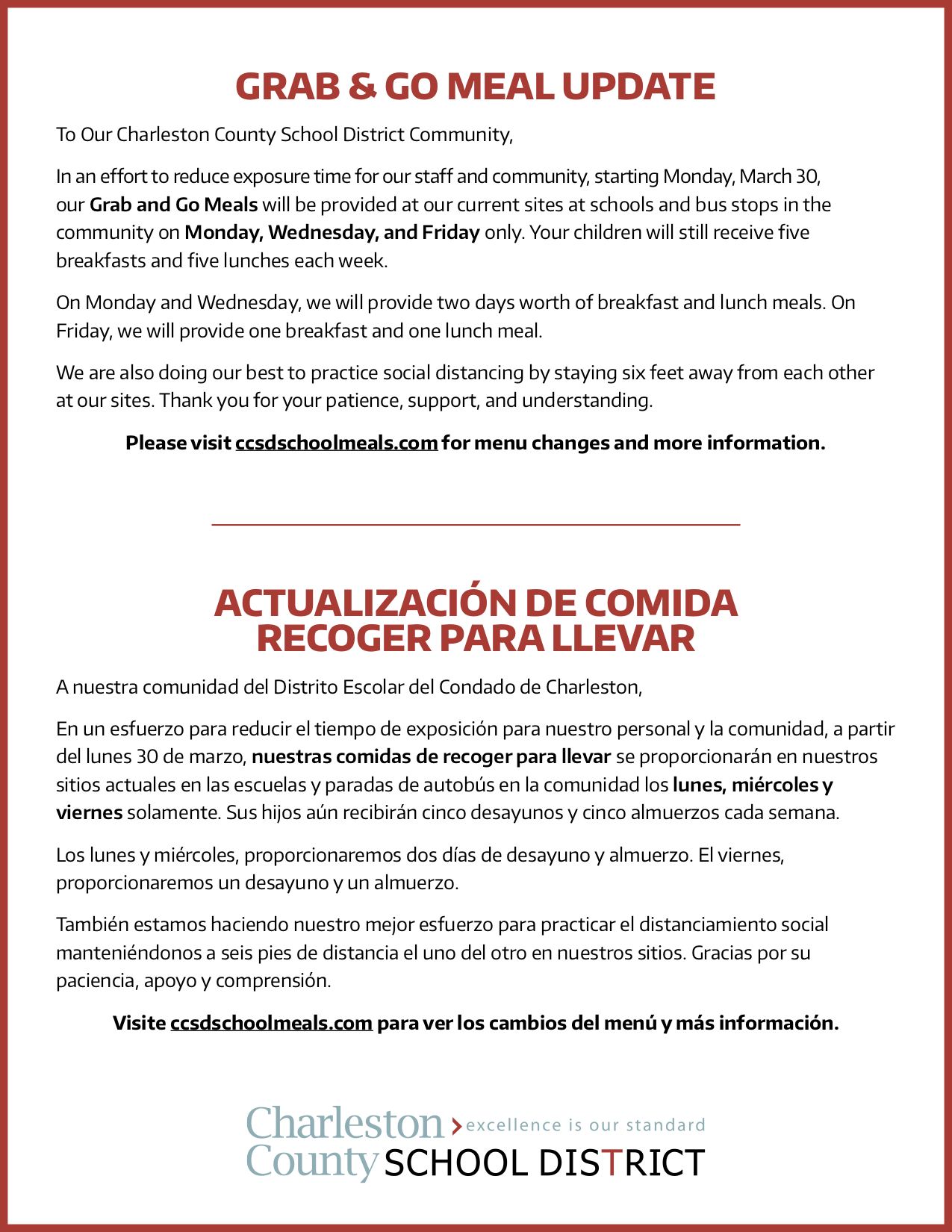 CCSD Schools and Buses - Meal Sites
Available Monday, Wednesday, and Friday
*Times and sites are subject to change. Please check often.*
District 1 Meal Sites (St. James Santee)
Awendaw Town hall 11am-11:20am
(Beg.5/18) Gadsenville Rd & Victoria Glover Ln 12:50pm- 1:15pm
Greater Howard AME Church 11:40am-11:50am
Lily Pond Baptist Church 12:45pm-1pm
Lincoln High School 12:10pm-12:30pm
St. James Santee Elem. 11am-1pm
District 2 Meal Sites (Mt. Pleasant)
Bennett Charles Rd & Julius Robertson Rd 11:15am- 11:30am
Edmunds Jenkins Home 12:30pm-1pm
Joseph Glover Rd & Joe Rouse Rd 11am- 11:15am
Laing Middle 11am-1pm
(Beg.5/18) New Covenant Church of God 12:30pm- 12:45pm
Parker Island Rd & Habersham Rd 11:30am- 12pm
Phillips Manor Subdivision 12pm- 12:15pm
Snowden Community Center 11am-12pm
District 3 Meal Sites (James Isle.)
EME Apartments 12pm-12:20pm
Ferguson Rd 12:30pm-12:40pm
Harbor View Elem 11am-1pm
District 4 Meal Sites (North CHS)
Accabbee Rd Subdivision 11:45am-12:15pm
Alston Lake Apartments 11:30am-12pm
Amberwood Apartments 12pm-12:25pm
Brakenbrook Apartments 11am-11:25am
Charleston School of the Arts 11am-1pm
Chicora Elem 11am-1pm
Dale Valley 12:30pm-12:55pm
Dorchester Village 12:55pm-1:30pm
Driftwood Apartments 10:45am-11am
Dubois Trailer Park 11:30am-11:55am
Dunston Elem. 12:15pm-1pm
Econo Lodge 10:30am-10:45am
Fairwinds 11am-12pm
Faith Assembly Church 1055am- 11:10am
Ferndale Mobile Homes 11:35am-11:40am
Gardens@Montague Apts. 10:35am-10:50am
Goodwin Elem. 11am-1pm
Greenwood on Reserve 11am-11:50am
Hawthorne City 12:15pm-1pm
Horizon Village 11am-12pm
Ladson Elem 11am- 1pm
Lake Ashley Mobile Homes 12pm-12:45pm
Lakeside Mobile Home Park 10:45am-11:15am
Lakewood Apartments 11:45am-11:50am
Meeting St Elem. @ Brentwood 11am-11:30am
Northwoods Baptist Church 11am- 12pm
Oakleaf Estate Subdivision 10:45am-11:15am
Palmetto Creek Townhouses 11:30am-12:15pm
Plantation Acres Mobile com. 12:15pm-1pm
Rosemount Subdivision 11am-11:30am
Spivey Trailer Park 11am-11:25am
Stall High School 11am-1pm
Sweet Grass Estates 12:10pm- 12:50pm
Tri County Park 12pm-12:25pm
The Woodside Manor 12:15pm-1pm
Waters at Magnolia, Ladson 11am-11:50am
Waylon on Dorchester 11am- 11:30am
1465 Remount Rd. 1:10pm-1:30pm
4789 Lambs Rd. 11:30am-11:55am
4854 Luella Ave. 11:25am-11:30am
4871 Bonds Willson Ave 11:15am-1:20pm
5098 Piedmont Ave. 11:55am-12:05pm
District 9 Meal Sites (John's Isle.)
Haut Gap Elem 11am-1pm
Johns Island Rural Housing 11am-11:30am
Mt. Zion Elem 12pm - 12:15pm
St. James Bethel AME 11:45am-12:30pm
District 10 Meal Sites (West Ashley)
Ashley Arms Apartments 11:10am-11:25am
Ashley Oaks Apartments 12:00pm-12:45pm
Carolina Voyager Charter 11am-1pm
Magnolia Down Apartments 12:45pm-1:15pm
Lovely Hill Missionary Baptist 11:30am-12pm
Orleans Gardens 11:30am-11:55am
Parmello (St. Andrews Garden) 10:45am-11:15am
Towne House Village Apart. 10:40am-11:05am
West Ashley Middle 11am-1pm
2196 Doris Drive 12:15pm-12:45pm
District 20 Meal Sites (Downtown CHS)
Back the Green 12pm-12:45pm
Bridgeview Village 11am-12pm
Corner of America St & Mary St 12:30pm-1pm
Corner of North Nassau and Conroy 11:35am-12:15pm
Food Lion Parking Lot by sidewalk to Apt Complex 1015 King St 11am-11:30am
Robert Mills Manor 11am-11:45am
Sanders Clyde Elem. 11am-1pm
Sunny Side Ave. 12:15pm-1pm
275 Huger St Parking Area 10:40am- 10:55am
District 23 Meal Sites (St. Pauls)
Adams Run Civic Center 12:25pm- 12:45pm
Baptist Hill HS 10:45am-12:30pm
Burbage Mobile Home Park 11:35am-12:05pm
E.B. Ellington Elem 11am-1pm
Hollywood Manor 11:30am-11:45am
Hollywood Town Center 11am-11:20am
Jane Edwards ES 11:15am-12pm
Jericho Mobile Home Park 11am-11:30am
Ravenel Mobile Home Park 12:10pm-12:40pm
Wiltown Community Center 12:25pm-12:50pm
Children 18 years or younger will be provided a lunch and breakfast for the following day. Children from neighboring districts are also eligible to participate in the meal service offered at the Charleston County School's locations.
The meal distribution sites are designated for drive-up or walk-up pick up only. Cafeterias will not be open for on-site meal service.
Meals may include perishable components and will be stored in temperature-controlled environments prior to distribution. Allergen information will be included with the meal components offered.
_____________________________________________________________________________



We know good nutrition and learning go hand in hand!

The Nutrition Services department is made up of a team of food and nutrition professionals that are dedicated to students' health, well being and their ability to learn. We support learning by promoting healthy habits for lifelong nutrition and fitness practices.

Meals, foods and beverages sold or served at schools meet state and federal requirements which are based on the USDA Dietary Guidelines. We provide students with access to a variety of affordable and appealing foods that meet the health and nutrition needs of students.