Farm To Cafeteria
Charleston County School District Nutrition Services and the Green Heart Project are excited to be partnering this year for Harvest of the Month. Each month, we will feature a short cooking video that coincides with each month's highlighted South Carolina grown fruit or vegetable. Watch to see how you can make your own stuffed bell peppers at home and make sure to try them in your school cafeteria September, 17!



September Harvest of the Month:
SC Grown Green Bell Peppers!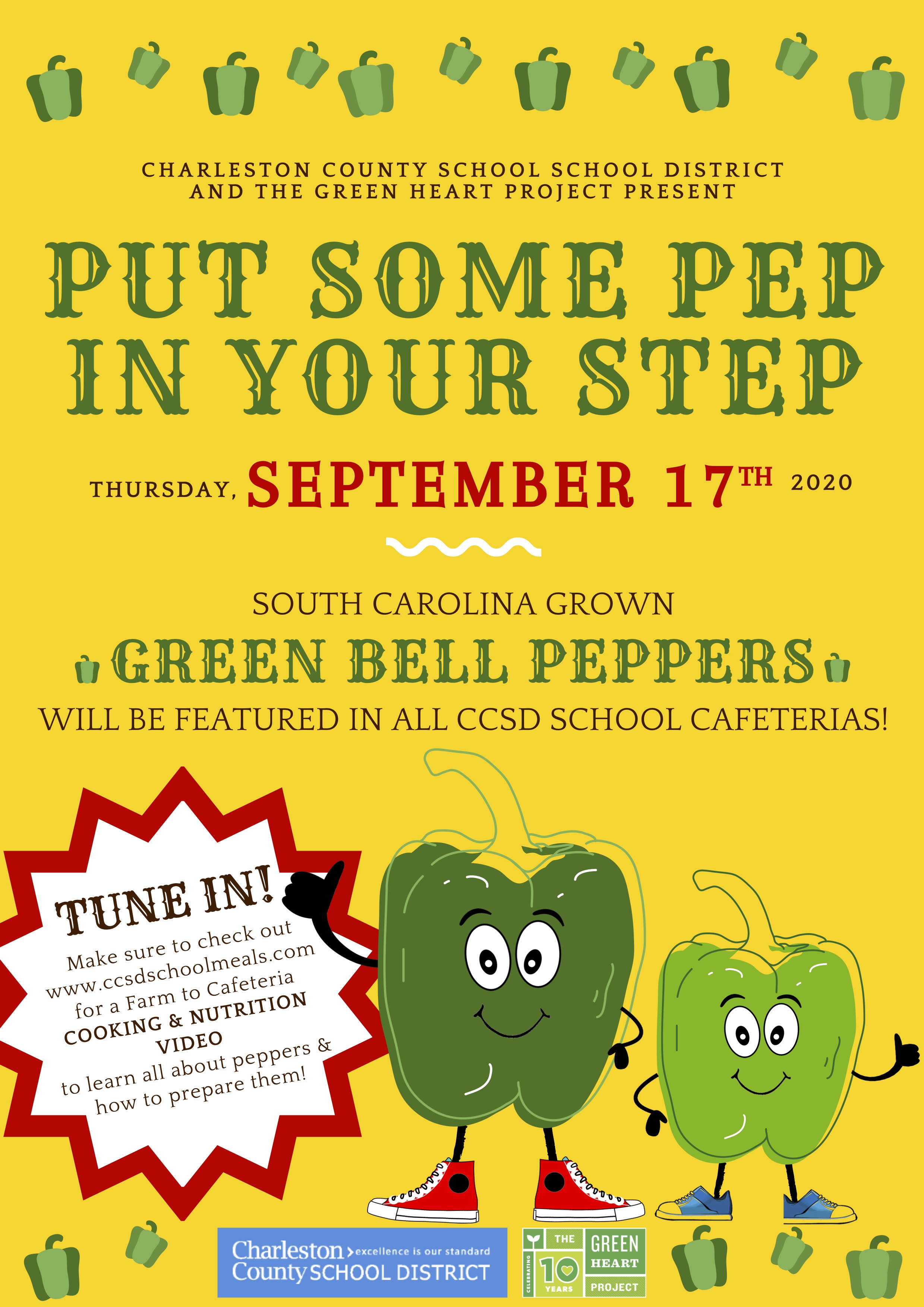 Print this fun Green Bell Pepper Activity Sheet!
Make this Black Bean & Corn Stuffed Bell Pepper Recipe
Watch This Bite Sized Nutrition Video: Stuffed Bell Peppers
_________________________________________________________________


Nutrition is for Everyone
Proper nutrition in the school age years can reinforce lifelong eating habits that contribute to a student's overall well being. This will help them to grow and learn to their fullest potential... and then go on to lead a long healthy life.


Nutrition for Students is Fun!
Click the Students link to the left to see how learning about nutrition is not only good for you but is also a lot of fun. Play the games and test your skill. Choosing the right foods can help you learn better, play harder and have a lot more energy.


Nutrition for Teachers
The Teachers section includes a collection of teaching tools that reinforce our district's Wellness Policy, incorporating nutrition lessons into classroom curriculum. Click the Teachers link to the left to find lessons, power points, links and other resources to complement Nutrition in the classroom.


Nutrition for Parents
We have put together some learning tools and resources to help you promote fitness and nutrition at home. We want to help you to encourage and reinforce lifelong nutrition and fitness practices that will support healthy lifestyles for you and your kids. Click the Nutrition at Home link to the left to learn